Late on July 31st, the 2013-14 Common Application went live,
enabling thousands of eager students to get a head start on completing their college applications. And while the newly touted design is supposed to provide a more intuitive user-friendly experience, many students are running into unexpected and understandably frustrating difficulties. Common Application officials assure us that they are hard at work trying to fix a host of glitches and errors, especially those revolving around college specific supplements. In the meantime, however, we've put together ten tips and suggestions to help you successfully navigate and make the most of the new Common Application.
1. Test scores: to post or not to post?
Earlier this fall, when the Common Application asked students to list all standardized test scores, we recommended that students leave the self-reporting testing section of the application blank. Now that the Common Application has adjusted their language, we feel it is in the best interest of students to complete this page. For students who answer, "Yes," to the prompt, "Do you wish to self-report standardized test scores," the Common Application now asks, "Indicate all tests you wish to report." This means that students who have taken both the SAT and ACT have a clear conscious when reporting one test over the other. This change in the Common Application actually makes it easier for students to personalize the "Testing" page of their application. When applying to colleges that accept Score Choice, students can list their best score results. Then, when applying to schools that require all SAT and ACT scores be submitted (such as Carnegie Mellon, Georgetown, and Stanford), students can edit the "Testing" page to include this information.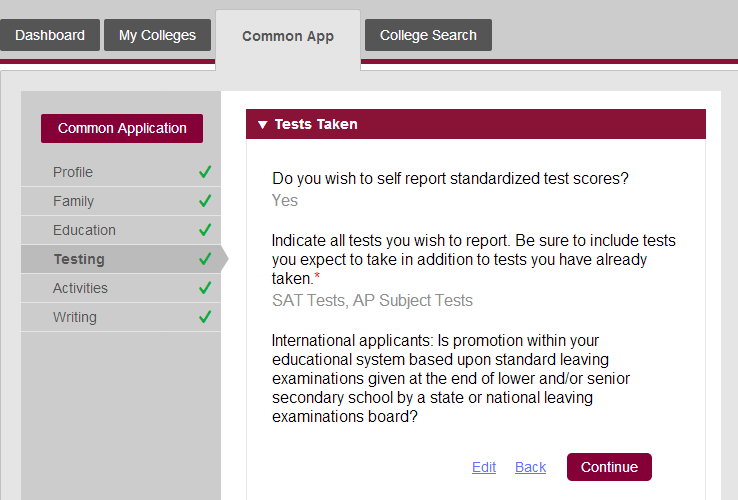 2. Résumé tips
Participated in…led…managed…contributed to.  When completing the "Activities" portion of the application, it's always best to use a variety of "action verbs" to describe your extra-curricular involvement. On the new Common Application, applicants no longer have the benefit of seeing all of their activities on the same page, making it difficult to know if your descriptions sound a bit monotonous. Our suggestion? Draft your activity details in a Word document, and then cut and paste them into the Common Application. This way you can ensure that you're using a range of colorful verbs. Don't forget that you have 50 characters to list your position/leadership and 150 characters to describe your details, honors, and accomplishments.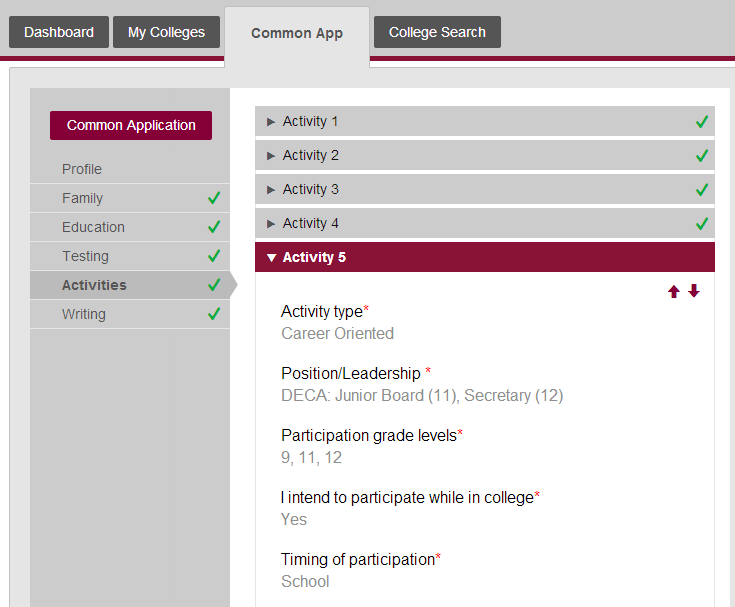 3. Formatting your essay
Gone are days of uploading your personal statement to the body of the Common Application. Now students are simply required to cut and paste their essay into a text box. There are two very important features you should know about this text box. The first is that it will not allow you to enter more than 650 words or fewer than 250 words. This word limit is new for the Common Application.  So, too, is the block formatting of paragraphs. New paragraphs will no longer appear indented. Rather, they show up as isolated blocks of text, with one empty line between each paragraph. The new formatting won't bother colleges, so there's no need to fret that your once indented paragraphs are now showing up a little differently in the print preview.
If you are having difficulty formatting your essay, and are experiencing odd word counts or no paragraph breaks when viewing the print preview of your application, try cutting and pasting your essay from MS Word (or your word processor of choice) into Notepad (for Windows users) or TextEdit (for Mac users). Then cut and paste your essay again into the "Personal Essay" text box. Notepad and TextEdit will strip your essay of all formatting and make most formatting issues disappear.